Nom scientifique : Phoenicopterus ruber
Portrait : Grand oiseau aux longues pattes roses palmées, au cou allongé et au gros bec recourbé. Plumage nuancé de rose vif au cou, sur la poitrine et sur le dos ; les ailes sont plutôt rouge carmin.
Il mesure entre 0.9 et 1.5 m de hauteur et son envergure peut atteindre 1.50 m. Il pèse 2 à 3 kg.
Régime alimentaire : des crustacés (Artemia salina qui accentue la couleur rose naturelle), des mollusques, des insectes, vers ou annélides.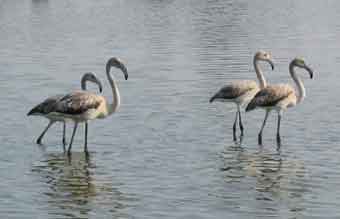 Scientific Name: Phoenicopterus ruber
Description : Large bird with long, pink legs and webbed feet, an elongated neck and a large curved beak. The shade of pink plumage is sharper at the neck on the breast and on the back; the wings are rather red.
Nome scientifico : Phoenicopterus ruber
Descrizione : Grande uccello dalle lunghe zampe rose palmate, dal collo allungato e dal grosso becco recourbé. Il suo piumaggio é rosa vivo sul collo, sul petto e sul dorso ; le ali sono di colore rosso.